SPECTRUM ANALIZER
Programa de captura de datos vía puerto serie, en principio lo pensé para el analizador de espectro del DSP KIT de TI, pero también sirve para jugar con streams de datos que entren vía puerto serie, si alguien quiere el código fuente que me lo pida y que me dé una buena razón para enviárselo ;-)
Serial data capture, first thought as a front-end for the TI DSP KIT, but can be used to play around with some serial data as input. Source code can be sent to you but: it's in Spanish and you have to give me a good reason for it, enjoy!

---
MIDI SECUENCER CLIENT/SERVER OVER TCP/IP
Programas para implementar la comunicación cliente/ servidor, como ejemplo, para una asignatura de sistemas distribuidos. Es un secuenciador MIDI muy básico en el que el servidor toca las notas y los clientes se las envía sobre una red TCP/IP. Código fuente disponible, como siempre si me das una buena razón para ello
Client/ Server programs implementing a basic MIDI sequencer, the server plays and the client sends notes over a TCP/IP network. Source code available upon request but it's in Spanish and I need always a good reason to send my code to others.
---
'Easy' CASE tool BDM
Práctica de la asignatura Ingeniería del Software II, se basa en la definición de una herramienta que usa simbolos para definir su comportamiento, no está muy depurada pero permite el uso de diagramas y metadiagramas...
Just a program that can define a metadiagram and use it to create diagrams, entity-relationship metadefinition included (not very well debugged, but it's a beginning). Created for subject "Software Engineering II" (last year MS CS).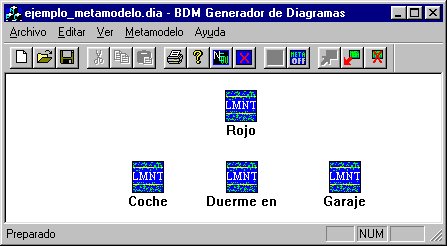 ---
Luego más...
More to come...